by Steven Harris
Current Canon Builders is an ongoing series that Critically Comics publishes that focuses on the stories of today that will most likely end up being in the canon of tomorrow. Since we typically reserve podcast discussions for completed works, this column will solely dedicated to works that are still being published, but have displayed the qualities of a book that will be discussed, analyzed, referenced and loved in the years to follow.
Full disclosure, I do not identify as a Venom fan. Still, the core concept (a symbiotic alien who attaches itself to broken people to become a super powered anti-hero) is interesting and can lead to some pretty entertaining stories. The closest I've come to identifying as a Venom fan was during Rick Remender's 2011 run that reimagined Venom as a covert special ops mercenary superhero. A large part of my admiration for that run comes from Remender focusing on Iraqi War veteran Flash Thompson and his own personal demons.
However, while the majority of fans enjoy this run, they still largely identify with the Eddie Brock version of Venom — the sometimes brain-eating lethal protector with an on-again off-again hatred of Spider-man. Personally, outside of the character's initial story arc, I have never understood the character. He seems like a leftover artifact from the EXTREME! 90's era of comics that never had anything more than surface level depth. With a bias already in place, Marvel's 2018 Venom series had a lot of heavy lifting to do in order convince me to read past issue one. Thankfully, that challenge was met
Under the guidance of Donny Cates and Ryan Stegman, Venom has become a must-read book. What was once a one dimensional character has become a compelling, emotionally conflicted anti-hero who is not only struggling to find his role in the world, but finding a way to stop an all encompassing and maddening cosmic horror.
At the start of Cates and Stegman's run, Eddie Brock is at an all time low. Living in a dirty apartment, Brock is established as a pill popping vigilante who wrestles with his symbiote other. Cates writes the symbiote unlike any other writer to date. Over the course of the series, the symbiote becomes much more than Eddie's alien passenger— he is becomes a manipulative, abusive lover. And despite all of the emotional trauma that the symbiote puts Eddie through, the reader can feel the pain Eddie has whenever the symbiote abandons him. The love between Eddie and his symbiote transcends the page, and is one of the most unique relationships in the comic industry today. Through a LGTBQ lens, Eddie Brock is potentially the non- heteronormative hero that the comic industry has needed for years. Only time will tell how Cates continues to evolve the complicated relationship between Eddie Brock and his alien passenger.
The highlight of the first arc of Cates & Stegman's Venom book is the introduction of the new character Knull. The creation of Knull is a masterclass in how to properly introduce a new character. Knull's background is effortlessly intertwined with not just Venom's history, but with the history of Marvel cosmic. What makes Knull stand out in the current comic landscape is not just his Lovecraftian aim to wipe out the light from the universe but his loyal Earth-based cult. While Knull is imprisoned in a far corner of the universe, a select handful of humans are convinced that Knull's crusade against life itself is just. Stegman's design for Knull takes inspiration from Dracula and is a perfect match for the motivation for that Cates has given with the character. Within their first arc, Cates and Stegman created a creator who is undoubtedly going to remain in the Marvel Universe for the foreseeable future.
While the introduction of Knull and revamping of Carnge are great reasons to check out the first arc of the series, the emotional core of Cate's Venom run can be found in the second arc. The revelation that Eddie Brock has a son adds a much needed emotional anchor to the book. As Eddie fights to save the universe from Knull's crusade, he must now also navigate the path of fatherhood. While not everyone has an evil symobite living within them, Eddie's fight to deal with his inner conflicts while attempting to be a better parent is a struggle most young parents can deal with. By giving Eddie a son, Cates has added another level of inner conflict to him that humanizes the mostly alienating character.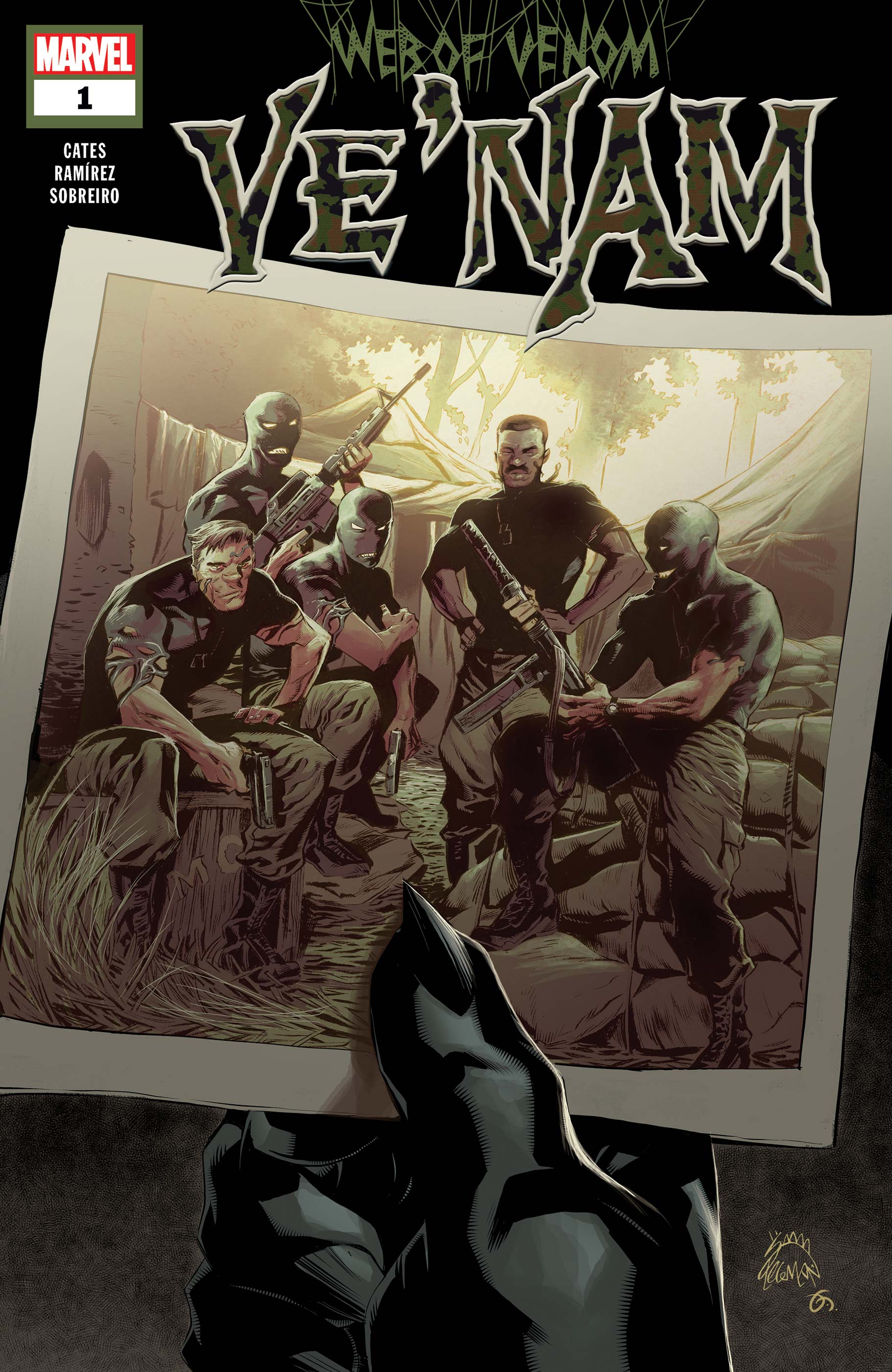 Furthermore, Cates is using the vast canvas of the Marvel Universe to simply tell some pretty cool stories. The Ven'am one shot is a gem of a story. The issue drops a symbiote enhanced solider in the middle of a war-torn Vietnam jungle. While there, the protagonist meets up with Wolverine and Nick Fury to fight rogue symbiotes. Equal parts Predator, Commando, and The Thing, the story Cates presents is the coolest forgotten story Marvel has produced in years.
With the launch of the Absolute Carnage mini-series, it is now more evident than ever that Cates and Stegman are producing work that will likely define their careers. The duo has reinvented the mass murdering symbiote Carange in a way that is absolutely terrifying. The 90's edge lord psychopath is now more than a villain who murders for shock value; he is now a conduit for Knull's will on Earth and is trying to awaken the elder god in order to bring about the end of the universe. Cates ability to make the return of Carange something that fans eagerly awaited for is nothing short of astounding. However, the best part of Absolute Carange is seeing the art trio of pencilst Ryan Stegman, inker JP Mayer and colorist Frank Martin cut loose. Stegman's pencils are crisp. Mayer's inks perfectly bring out the detail in the pencils. Martin's color make the images pop off the page due to the nightmarish glow he's added. No other artist team are this insanely in sync with each other right now in the comic industry. Each splash page feels destined to become an iconic image.
With Absolute Carnage shaping up to be only the end of phase one for Stegman and Cate's Venom saga, fans will be talking about this run for years to come.(Another testament to Cate's unique vision of the the symbiote mythos is simply comparing the main mini-series to other souless tie in mini-series by authors who fail to modernize the concepts in an equally captivating way.)
If Cates and Stegman can maintain the momentum, quality and dedication to continuing their well polished super powered anti-hero horror saga, this will not only become the defining Venom story – it will become the story that defines how writers can transform aimless properties into must- read fan favorites. Venom by Donny Cates and Ryan Stegman started off as underdog of a book that no expected much out of and in under two years have made it a book that will undeniably one day end up in the canon of all time great graphic novels and comic books.